Fuel Genie's Inspiring Journey of Innovation and Success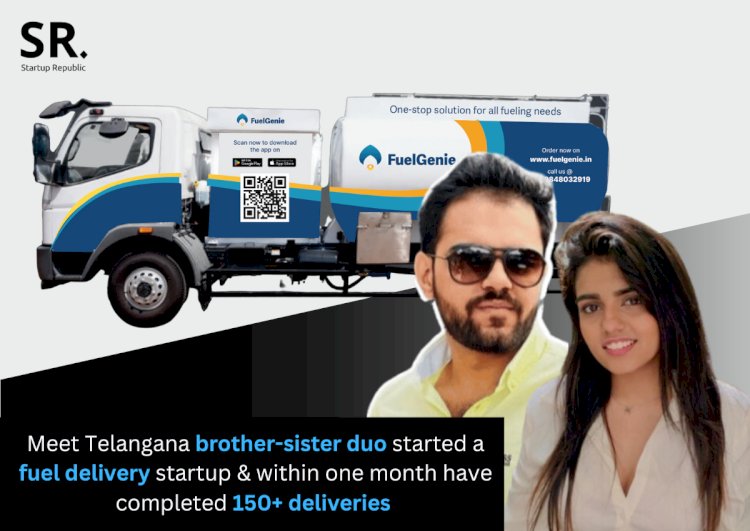 Fuel genie
In today's ever-evolving world, there are a select few who dare to challenge the status quo and redefine industries. One such remarkable story of determination and ingenuity comes from Telangana, where the brother-sister duo Jai and Aishwarya Solanki established Fuel Genie, a trailblazing startup that is transforming the fuel delivery landscape with their visionary solutions.
Born into a family deeply rooted in the oil industry, Jai Solanki, the visionary Founder and CEO of Fuel Genie, brings a wealth of experience and expertise to the table. Drawing from his family's extensive knowledge and technical proficiency, Jai embarked on a mission to revolutionize fuel delivery and create a seamless, hassle-free experience for businesses and individuals alike.
But Fuel Genie's story doesn't end there. Aishwarya Solanki, the accomplished Director of Fuel Genie, adds a unique blend of skills to the mix. With a Master's degree in Psychology from the esteemed University College London (UCL), Aishwarya's proficiency in people management and operations has played a pivotal role in transforming Fuel Genie into a cutting-edge, technology-driven industry leader.
Fuel Genie is more than just a fuel delivery service—it is a beacon of excellence and innovation. By offering a wide range of services tailored to meet the diverse needs of their customers, Fuel Genie ensures round-the-clock operations and leverages advanced technologies to deliver diesel fuel promptly and in precise quantities. With Fuel Genie by their side, businesses can rest assured that their fuel needs will always be met on time, every time.
But what truly sets Fuel Genie apart is their unwavering commitment to exceptional service. Recognizing the critical role lubricants play in maintaining smooth machinery operations, Fuel Genie has perfected their lubricant delivery services, ensuring that businesses have a reliable and efficient supply of lubricants when they need them the most.
Fuel Genie's crown jewel is undoubtedly the Fuel Genie Bowser—a technological marvel equipped with cutting-edge geo-fencing technology and real-time trackers. With these advanced features, Fuel Genie guarantees precise delivery times and minimizes any potential delays. When it comes to fuel delivery, Fuel Genie is second to none.
Quality and customer satisfaction are at the heart of Fuel Genie's ethos. Throughout the entire delivery process, Fuel Genie closely monitors the fuel, ensuring that the highest standards are maintained, and customers receive nothing short of excellence.
What makes Fuel Genie's journey even more awe-inspiring is the fact that they started with humble beginnings and limited resources. Against all odds, Fuel Genie has experienced remarkable growth and success, with a projected turnover of ₹25 Crores for the Financial Year 2023-2024. Their meteoric rise serves as a testament to their unwavering determination and the disruptive impact they have made in the fuel delivery market.
In just a short span of time, Fuel Genie has already left an indelible mark on the industry. Serving over 30 satisfied customers and completing more than 150 deliveries within their first month of operation, Fuel Genie has established itself as a paragon of reliability and efficiency.
Fuel Genie's story is not just an inspiration—it's a call to action. It reminds us that with passion, innovation, and a commitment to excellence, we can redefine industries, break barriers, and create a lasting impact. Fuel Genie stands tall as a beacon of hope, showing us what can be achieved when we dare to dream big and embark on an extraordinary journey of transformation.