Unlock the Potential of Startup Investments: Join the Angel Investment Masterclass in Jhansi
The Angel Investment Masterclass, in Jhansi, Uttar Pradesh, is a transformative event powered by IM Global Accelerator, South Asia's largest startup accelerator. The event aims to bring together the region's top 30 High Net Worth Individuals (HNIs) to actively participate in the startup ecosystem, driving local businesses, fostering job creation, and contributing to the community's prosperity. IM Global Accelerator's experience in nurturing startups and fostering innovation will be a catalyst for change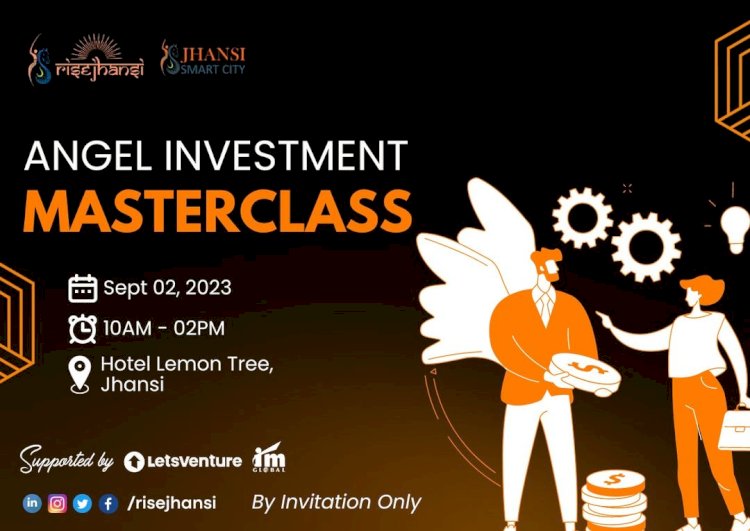 In the heart of Jhansi, a transformative event is on the horizon that has the potential to reshape the entrepreneurial landscape of the region. The Angel Investment Masterclass, scheduled for September 2, 2023, at the prestigious Lemon Tree Hotel, is not just an event; it's a catalyst for change, powered by IM Global Accelerator, South Asia's largest startup accelerator. If you're an aspiring investor or a fervent supporter of innovation, mark your calendars for a day that could ignite the spark of growth and possibility.
IM Global Accelerator: Pioneering Startup Growth
As the mastermind behind this game-changing event, IM Global Accelerator brings a wealth of experience in nurturing startups and fostering innovation. With an impressive track record of propelling startups from conception to success, IM Global Accelerator is dedicated to creating an environment where entrepreneurial dreams flourish.
Cultivating a Vibrant Startup Ecosystem
Jhansi, a city known for its historical significance, is on the brink of a new era – an era defined by innovation, collaboration, and economic growth. The Angel Investment Masterclass aims to bring together the region's top 30 High Net Individuals (HNIs), empowering them to take an active role in the startup ecosystem. This isn't just about investing capital; it's about becoming a driving force behind local businesses, fostering job creation, and contributing to the overall prosperity of the community.
Spotlight Speaker: Visionary Shaping the Future
At the core of the Angel Investment Masterclass is the visionary speaker who has left an indelible mark on the Indian startup landscape.
Nakul Saxena: President of Lets Venture
With Lets Venture, a prominent player in the startup investment scene, Nakul Saxena has been instrumental in connecting innovative startups with visionary investors. His insights into the intricacies of startup valuation, market trends, and investment strategies are invaluable. As a speaker at the Masterclass, Nakul will provide attendees with a roadmap to navigate the world of angel investments successfully.
Unveiling the Masterclass Experience
The Angel Investment Masterclass promises a day filled with enriching experiences and insights:
In-depth Sessions: Engage in thought-provoking sessions that delve into the nuances of startup investment, risk management, and market analysis.

Networking Opportunities: Connect with fellow HNIs who share your passion for driving change and innovation.

Startup Showcases: Witness firsthand the ingenuity of local startups, their groundbreaking ideas, and the potential they hold.

Interactive Panels: Participate in panel discussions featuring experts from various sectors, gaining a holistic view of the startup ecosystem.

Q&A Sessions: Have your burning questions answered by Nakul Saxena, Mobile Vaid, and other industry leaders.
Secure Your Spot
The Angel Investment Masterclass is a golden opportunity to not only bolster your investment portfolio but also leave a lasting impact on the entrepreneurial landscape of Jhansi. To reserve your seat and be part of this transformative experience, register through the official event website link https://risejhansi.in/rise-jhansi-angel-investment-masterclass
Embrace the Power of Investment
As Jhansi prepares to embrace innovation and growth, the Angel Investment Masterclass is your chance to be at the forefront of change. Join us on September 2, 2023, at the Lemon Tree Hotel in Jhansi, and let's collectively ignite a wave of investment, entrepreneurship, and progress that will shape the future of the city and beyond.