Physics Wallah: The rise of a youtube channel that became a unicorn Edtech Startup Bharat.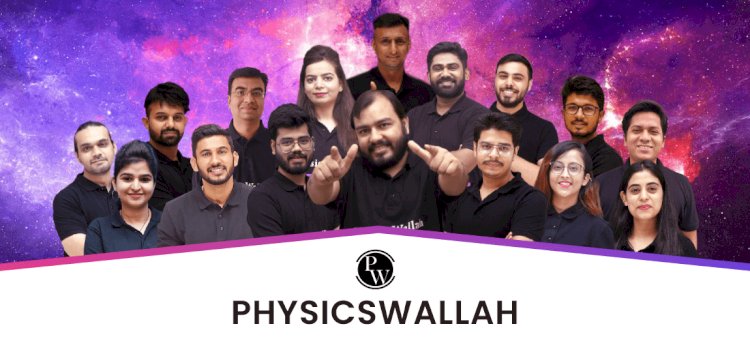 success story of physicswallah
In this modern world, technological advancement and affordable equipment have created a new learning scheme. They have revitalised our educational system and made learning easy, simple, and enjoyable. This shift in the system appears to be so rapid that students may no longer need to carry books and will be able to learn from anywhere at any time.​
The recent Covid-19 pandemic proved to be a test run for this change. In fact, it accelerated the process of learning advancement. Many EdTech startups have emerged in the last few years. These startups have a bright and secure future if they execute flawlessly and produce high-quality content.
Physics Wallah (PW) is one of many businesses that thrived during the pandemic. The founder's passion for teaching drove him to launch a YouTube channel, which has since become India's 101st unicorn. Physics Wallah's and its founder Alakh Pandey's story is very inspiring. The following article depicts their success story, growth, funding, difficulties, and how they became a Unicorn despite the challenges.
Physics Wallah - Highlights
| | |
| --- | --- |
| Company Name | Physics Wallah |
| Headquarters | Noida, Uttar Pradesh |
| Industry | EdTech |
| Founders | Alakh Pandey & Prateek Maheshwari |
| Founded | 2016 |
| Company Valuation | $1.1+billion (June 2022) |
| Website | pw.live |
Physics Wallah - About
Physics Wallah was founded in 2014 by Alakh Pandey as an EdTech startup. It is an e-learning platform that provides high-quality learning experiences at a low cost. This startup offers lectures and solutions on a variety of subjects to students in grades 6 through 12, as well as JEE, NEET, and other entrance exams. Physics Wallah provides both live and scheduled lectures, as well as question-and-answer sessions and structured materials, and assists students in evaluating themselves through tests.
Physics Wallah began as a YouTube channel and has since mentored over 6 million students and has over 13,700 video lectures on its platform. Physics Wallah, which provides both free and paid classes, has earned the trust of thousands of students by providing experienced and quality instruction.​
Physics Wallah - Business
Physics Wallah is a member of the EdTech industry. The growth of the EdTech industry in India can be traced back to the last decade. Their expansion has been far too rapid in recent years. According to statistics, approximately 4,450 EdTech startups sprouted in the country between 2014 and 2019. In 2020, the EdTech market is expected to be worth $750 million. In the next five years, this could grow to a whopping $4 billion.
In the last decade, funding and other investments in these startups have increased 32 times. In the long run, the EdTech industry will supplant offline learning. However, experts and venture capitalists believe that for the next decade or two, the omnichannel approach to learning (both online and in-person) will be dominant.
The Founders and Team of Physics Wallah
Physics Wallah was founded by Alakh Pandey and Prateek Maheshwari.​
Alakh Pandey
Physics Wallah's founder and CEO is Alakh Pandey. He was born in Prayagraj, Uttar Pradesh, on October 2, 1991. Since his school days, Pandey has had a passion for teaching. He aspired to be an IITian but failed his entrance exam. Pandey, too, was a college dropout who began his career as a physics instructor in a coaching institute. He wanted to provide students with the best learning experience possible at an affordable price.
Prateek Maheshwari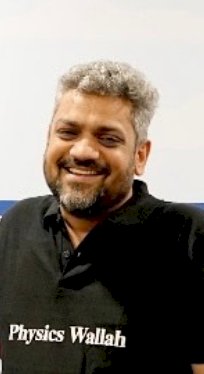 Physics Wallah was founded by Prateek Maheshwari. He received his bachelor's degree in technology from IIT Varanasi. Prateek Maheshwari co-founded NightPanda, Moon2Noon, PenPencil, and Edu4All before joining forces with Alakh Pandey for PW. His experience as a founder proved to be an invaluable source of encouragement for Physics Wallah.
Physics Wallah's Startup Experience
Alakh Pandey's passion for teaching led him to a coaching institute in Allahabad after he dropped out of college. He honed his teaching skills there. His teaching style was well received, and the Physics he taught was well received. So, in order to reach more students, Alakh Pandey launched the 'Physics Wallah' YouTube channel in 2016. This is where the seed for PW was planted and the startup began to sprout.
Mission and Vision of Physics Wallah
The vision of Physics Wallah is to provide "education for all, regardless of socioeconomic status." The company wishes to make education more affordable for all students. It believes that education has the ability to change everything. This is the motto under which Physics Wallah is marching.
Physics Wallah - Company Name and Logo
The name 'Physics Wallah' came from Alakh Pandey's popular physics classes. In 2016, he named his YouTube channel after the aforementioned reason. Later, 'Physics Wallah' became his brand identity and the startup's name.
Physics Wallah - Revenue and Business Model
Physics Wallah's business is to provide lectures and training to students in a variety of classes, either online or in person. It also prepares students for national-level entrance exams.
Physics Wallah's revenue is generated by YouTube advertisements. There is also an optional subscription plan that provides access to exclusive doubt-resolution sessions. In addition, PW charges a fee for courses, lectures, and materials. The cost is determined by the level, course, or plan chosen.
Physics Wallah - Investors and Funding
Since its inception as a YouTube channel six years ago, Physics Wallah has been bootstrapped until 2022. In fact, Alakh Pandey used his YouTube earnings to establish the company and develop the PW app in 2020. Physics Wallah's finances operated in this manner until a breakthrough occurred in June 2022. On June 7, 2022, the startup received $100 million in Series A funding from Westbridge Capital and GSV Ventures. Physics Wallah became a Unicorn after its initial funding round, with a post-funding valuation of $1.1 billion.
| | | | |
| --- | --- | --- | --- |
| Date | Stage | Amount | Investors |
| June 22 | Series A | $100 Million | Westbridge Capital & GSV Ventures |
Physics Wallah - Development
Pandey quit his job at the coaching centre in 2017 to become a full-time YouTuber, despite a slow start in the first year. The channel gradually grew in popularity, and by 2019, it had 2 million subscribers. When the country went into lockdown due to the Covid-19 pandemic, the demand for Physics Wallah skyrocketed.
As a result, Alakh Pandey decided to broaden his platform and launch an online lecture application. PW Pathshala is a startup that offers both offline and online classes to students. Physics Wallah has educated over 60 lakh students to date. This startup has 16 PW Pathshala centres and 1,500 employees, 300 of whom are teachers. Its goal is to provide​ students with the best learning experience possible.
According to reports dated June 20, 2022, Physics Wallah entered the offline space when it opened its first offline learning centre, PW Vidyapeeth, in Kota, Rajasthan.
Kota is well-known for housing coaching centres for medical and engineering students. PhysicsWallah's offline centre is similarly designed and will enrol 11th and 12th grade students planning to prepare for their JEE and NEET exams. The unicorn edtech startup revealed that each class will have a student-teacher ratio of 125:1.
Physics Wallah - Difficulties
The Physics Wallah app crashed due to high traffic during its launch in May 2020. This crash was caused by the sudden influx of over 2 lakh students into the app. As web traffic increased, it took weeks for the technical glitch to be resolved. Alakh Pandey was concerned that the students would feel cheated, despite the fact that they had paid for the classes. But because of his reputation over the years, the students trusted him and returned once everything was fixed.
The next challenge arose in 2021, when competitors began to throw stones at the company. Unacademy offered Alakh Pandey Rs 75 crore, which he immediately declined. The rivals then began poaching PW employees.​ Pandey then came back strong with the help of students and his never-give-up attitude, propelling the company to unicorn status, joining Byju's, Unacademy, Vedantu and a few others in the EdTech industry.
Physics Wallah's Plans for the Future
Physics Wallah intends to expand its offline presence, introduce new courses, and improve its online platform. In addition, the company intends to expand its content into nine vernacular Indian languages, including Gujarati, Malayalam, Tamil, Telugu, Kannada, and others. This would increase Physics Wallah's student base, which is estimated to be around 250 million by 2025.
FAQs
What exactly is Physics Wallah?
Physics Wallah is an e-learning platform that provides students with high-quality lectures and learning experiences at a low cost.
Who ar the people behind Physics Wallah?
Physics Wallah was founded by Alakh Pandey and Prateek Maheshwari.
What is the market value of Physics Wallah?
On June 7, 2022, the company achieved Unicorn status and was valued at $1.1 billion.
Who are the Physics Wallah's Investors?
The company's two investors are westbridge Capital & GSV Ventures.