Empowering Angel Investors: Rise Jhansi's Angel Investment Masterclass for Uttar Pradesh's Top Business Houses
In the dynamic landscape of business, the role of angel investors cannot be overstated. These visionary individuals not only provide essential financial support but also offer invaluable guidance and mentorship that can propel startups to unprecedented heights. Against this backdrop, Rise Jhansi Incubation Center, a project of Jhansi Smart City Limited, is all set to host an event that promises to reshape the startup investment sphere. On the 2nd of September 2023, at the esteemed Hotel Lemon Tree Jhansi, the Angel Investment Masterclass will unfold, presenting an exclusive opportunity for the top 20 business houses of Uttar Pradesh.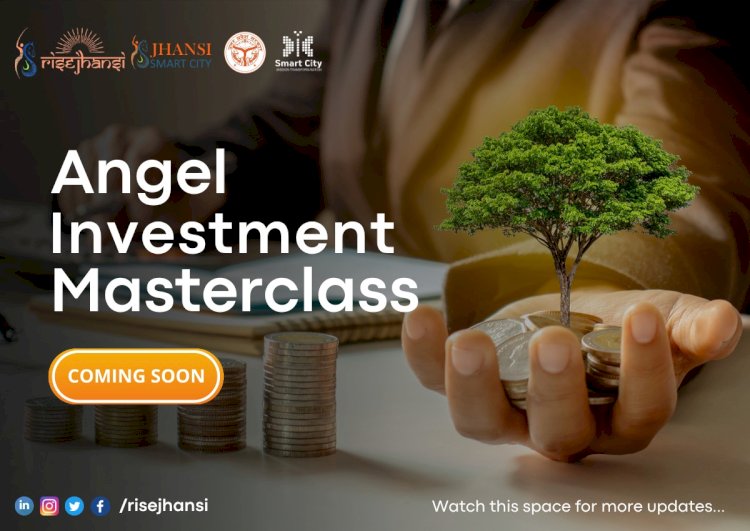 Curating Investment Pioneers
Out of the myriad of industry leaders that grace the state of Uttar Pradesh, Rise Jhansi Incubation Center has handpicked the Top 20 Industry Leaders who are poised to become the driving force behind the next wave of angel investors. These leaders represent not just a region, but a commitment to nurturing innovation, fostering entrepreneurship, and catalyzing economic growth not only within Uttar Pradesh but beyond its borders.
A Collaboration of Excellence
The Angel Investor Masterclass, spanning a transformative four hours, is a collaborative endeavor that underscores the power of synergy. Rise Jhansi Incubation Center, powered by the vision of Jhansi Smart City Limited, joins forces with industry giants Let'sVenture and IM Global to create an event that is informative, inspiring, and impactful. This alliance is a testament to the shared belief in the potential of angel investors to shape the trajectory of startups and, by extension, the economy.
A Glimpse into the Masterclass
The Angel Investment Masterclass promises a deep dive into the intricate world of angel investing. Esteemed speakers and thought leaders will share their expertise, shedding light on various facets of angel investing. From deciphering emerging trends that govern investment decisions to unveiling best practices that define success, participants will gain unparalleled insights into the art of identifying and nurturing promising investment opportunities.
Unlocking the Power of Knowledge
This Masterclass isn't just about transactions; it's about transformation. Attendees can expect to walk away with a treasure trove of insights, including:
Strategies for identifying startup investment prospects, both in India and abroad.
Mastery over the intricacies of startup valuation and investment deal structuring.
Understanding investment tools, post-investment methodologies, and exit strategies.
Navigating the intricacies of a diversified investment portfolio for remarkable returns.
Grasping the pivotal role that angel investors play in scaling startups on an international stage.
The chance to connect with like-minded professionals, forging a network rich in investment trends.
A Glimpse into the Future
Perhaps one of the most exciting takeaways from the Angel Investment Masterclass is the opportunity to identify potential unicorns in the global market. The session promises to equip attendees with the insight needed to spot these game-changing startups and potentially be a part of their transformative journey.
As the calendar marches towards September 2, anticipation and enthusiasm are on the rise. The Angel Investment Masterclass is more than an event; it's a movement. Rise Jhansi Incubation Center's dedication to empowering angel investors underscores their commitment to nurturing innovation, fostering entrepreneurship, and steering Uttar Pradesh towards a future ripe with potential. The journey towards becoming a seasoned angel investor starts here, at the heart of Uttar Pradesh, where innovation and investment intertwine.