From Vision to Reality: How Uttar Pradesh Startup Ecosystem Nurtured 8 Unicorn Startups
Uttar Pradesh, a vibrant state with a rich history, is transforming into a thriving startup hub. Eight unicorn startups have significantly impacted various industries, earning the prestigious "unicorn" status.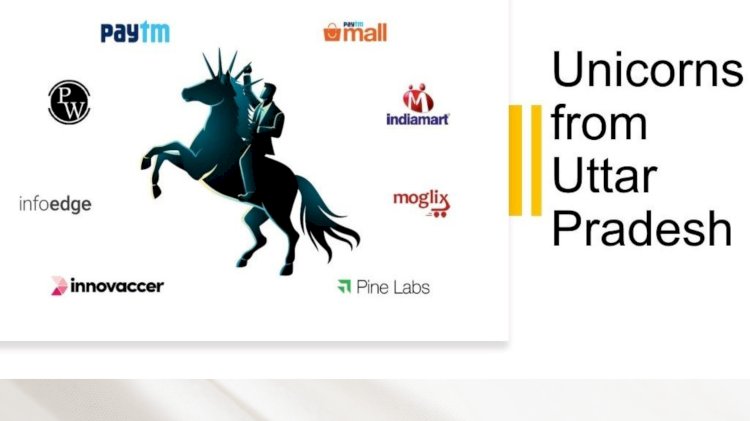 Uttar Pradesh, one of India's most populous states, has witnessed a remarkable transformation in recent years, becoming a thriving hub for startups and innovation. With a conducive environment for business and the presence of various incubation centers and government support, Uttar Pradesh has given birth to several unicorn startups that have made their mark on the global stage. In this blog, we will explore eight unicorn startups that have emerged from this state, as well as the pivotal role played by the Rise Jhansi Incubation Centre in nurturing and developing the startup ecosystem in Uttar Pradesh.
Paytm Founded in 2010 by Vijay Shekhar Sharma: Paytm started as digital payments and mobile recharge platform. Over the years, it expanded its services to include online shopping, flight booking, and financial services. Today, Paytm is one of India's leading fintech companies, valued at billions of dollars, and has become synonymous with cashless transactions in the country.

Physics Wallah Started by Alakh Pandey, Physics Wallah is an online platform that offers high-quality educational content in science and mathematics. The platform gained massive popularity for its free YouTube tutorials and affordable subscription-based courses. With a mission to make quality education accessible to all, Physics Wallah has become a game-changer in the e-learning space.

Info Edge (India) Limited While Info Edge isn't a household name like some other unicorns, its contributions to the startup ecosystem cannot be overlooked. The company operates India's leading job portal, Naukri.com, along with other successful ventures like 99acres.com and Jeevansathi.com. Info Edge has played a significant role in bridging the gap between job seekers and employers in the country.

Innovaccer: Innovaccer is a healthcare technology company that provides data-driven solutions to improve patient outcomes and operational efficiency for healthcare organizations. Founded by Abhinav Shashank, Innovaccer's innovative approach to healthcare analytics and interoperability has earned it a unicorn status.

Paytm Mall An offshoot of Paytm, Paytm Mall is an e-commerce platform that offers a wide range of products to its customers. With its strong backing from the parent company and aggressive marketing strategies, Paytm Mall quickly gained a foothold in the fiercely competitive Indian e-commerce market.

IndiaMART: IndiaMART is an online marketplace that connects buyers with suppliers in various industries. Founded by Dinesh Agarwal and Brijesh Agrawal, the platform has revolutionized the way businesses conduct trade in India and has earned a unicorn valuation.

Moglix: Moglix is a B2B e-commerce platform specializing in industrial products and procurement solutions. Founded by Rahul Garg, Moglix has successfully disrupted the traditional supply chain model in the industrial sector, earning recognition as one of the fastest-growing B2B startups in India.

Pine Labs; Pine Labs is a leading fintech company that provides payment and point-of-sale solutions for merchants. With its innovative technology and customer-centric approach, Pine Labs has become a crucial player in India's digital payment landscape.
The Rise Jhansi Incubation Centre: Nurturing Innovation
The Rise Jhansi Incubation Centre has played a pivotal role in fostering a conducive environment for startups in Uttar Pradesh. Situated in the historical city of Jhansi, this incubation center has provided aspiring entrepreneurs with access to mentorship, resources, and a collaborative workspace.
Key contributions of the Rise Jhansi Incubation Centre:
Mentorship and Guidance: The incubation center offers mentorship from experienced industry experts and successful entrepreneurs. This guidance helps startups navigate challenges and make informed decisions.

Funding Support: The center assists startups in securing funding from investors and venture capitalists, vital for their growth and expansion.

Networking Opportunities: By organizing workshops, seminars, and networking events, the incubation center facilitates valuable connections within the startup community.

Skill Development: Startups receive access to workshops and training sessions, enhancing their skills in areas like marketing, product development, and finance.

Infrastructure and Workspace: The center provides a well-equipped workspace that allows startups to focus on their core business without worrying about logistical issues.
The startup ecosystem in Uttar Pradesh is witnessing an unprecedented surge, with several successful unicorns leading the charge. From fintech to e-commerce, edtech to healthcare, these startups have not only transformed industries but also contributed significantly to India's economic growth. The Rise Jhansi Incubation Centre has played a crucial role in nurturing this ecosystem by providing support, guidance, and resources to budding entrepreneurs. With the right mix of innovation, infrastructure, and government support, Uttar Pradesh is well on its way to becoming a powerhouse of startups and technological advancements.