Credit guarantee scheme for Startups
Starting a business is a not an easy task for every entrepreneur. Lack of appropriate finance when needed, as well as banks' high risk perspective of industry, have frequently been the two key reasons why entrepreneurs have found it so difficult to start any business. To provide the startup industry a much-needed boost, the Government of India has announced a new initiative called as the Credit Guarantee Scheme for Startups or CGSS. The CGSS framework was developed after extensive consultations with stakeholders, including line ministries, banks, NBFCs, venture loan funds, academia, and specialists from the startup ecosystem. The Scheme will serve as a crucial facilitator and risk mitigation strategy for lending institutions, allowing companies to receive collateral-free funding.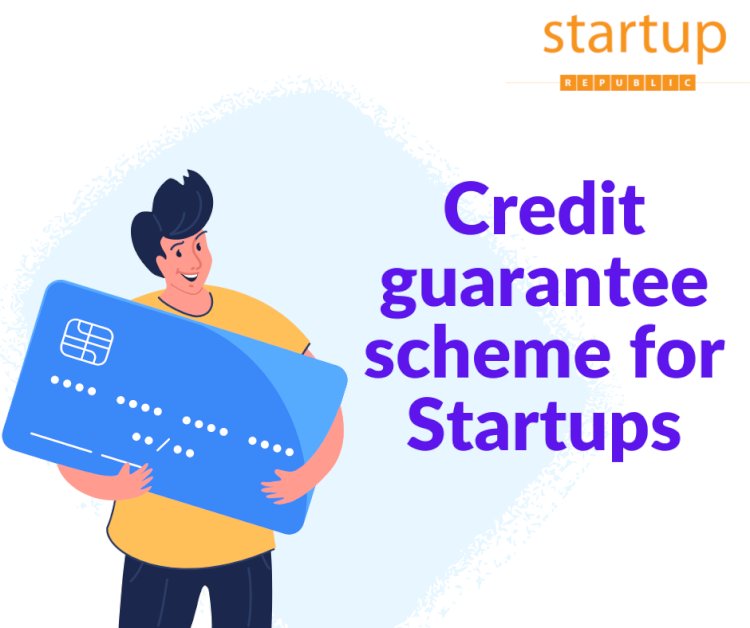 What actually is the Startup Credit Guarantee Scheme (CGSS)?
DPIIT (Department for Promotion of Industry and Internal Trade), Ministry of Commerce and Industry, notified the establishment of the Credit Guarantee Scheme for Startups (CGSS) to provide credit guarantees to loans extended by Scheduled Commercial Banks, Non-Banking Financial Companies, and Securities and Exchange Board of India (SEBI) registered Alternative Investment Funds in order to simplify and ease the process.
The CGSS is designed to provide credit guarantees up to a certain limit to eligible borrowers, i.e., qualifying startups, against loans provided by Member Institutions (MI).
Highlights of the Startup Credit Guarantee Scheme (CGSS)
Lending banks who are members of this scheme will provide guarantees to eligible startups that must be recognised by the Department of Industrial Policy and Promotion (DIPP).
CGSS will provide guarantees based on portfolios, with each portfolio including 10 or more startup loans for the financial year.
Every eligible case will be granted credit guarantees of up to Rs.5 crore, including assistance such as working capital, venture capital, optionally convertible debt, debentures, term loan, and so on.
This scheme will grant credit of up to 75% of the loan amount, subject to a maximum of Rs.150 lakh.
Micro firms requesting loans of less than Rs.5 lakh would be provided up to 85% of the total credit amount asked.
MSME's operated or controlled by women and NER will be eligible for up to 80% credit (including Sikkim).
For MSME retail trade, a guarantee cover of up to 50% of the amount, subject to a limit of Rs.50 lakh, would be provided.
CGSS Pre-Requisites
Aadhaar will be required for all resident partners or directors for KYC, while passport numbers would be necessary for non-resident partners or directors.
This scheme's lending institutions may be Alternate Investment Funds (AIFs), scheduled commercial banks/financial institutions, or NDFCs registered with the RBI.
CGSS shall operate in accordance with the conditions of the National Credit Guarantee Trust Company's trusteeship management (NCGTC).
Member lending banks would provide up to Rs.500 lakh in guarantees to eligible startups without requiring a third-party guarantee or collateral.
A Management Committee will monitor and supervise this Credit Guarantee Scheme for MSME (MS).
Conflicts of interest will be handled and resolved by the Risk Evaluation Committee (REC), which will be constituted specifically for this purpose.
Eligibility Criteria :
The startup should be recognised by the Department for Promotion of Industry and Internal Trade (DPIIT)
The startup should have reached the level of a stable revenue stream that can be financed with loans;
The startup should not be in arrears with any financing or funding institution.
According to RBI norms, the startup should not be classed as a non-performing asset (NPA); the firm's qualifying criteria should be certified by the member institution for guarantee cover.
This scheme's credit guarantee coverage would be transactional as well as umbrella-based. What does this mean for you or your company? Let's Understand:
Transaction-based guarantee cover: This Cover provides a single borrower guarantee to Member Institutions (MI). The extent of the cover shall be 80% of the amount when the loan is sanctioned up to 3 Cr, 75% of the amount when the loan amount is between 3 and 5 Cr, and 65% of the amount when the load surpasses 5 Cr (and up to 10 Cr).
Umbrella-based guarantee cover: Under this cover, an overall guarantee is issued to Venture Debt Funds (VDF) established under SEBI's AIF regulations (a rising area of funding in the Indian startup ecosystem), based on the nature of funds received and debt finance provided by them. Instead of giving guarantees on a case-by-case basis, the cover will provide an overall guarantee on a maximum of 5% of the pooled investments.
The lending/investing institutions' eligibility criteria:
Scheduled commercial banks;
Financial institutions;
Specified Non-Banking Financial Companies (NBFCs) registered with the RBI;
Alternative Investment Funds registered with the SEBI (AIFs).
CGSS's Guarantee Period:
The guarantee cover under CGSS shall be granted for the duration of the credit facility. For operating capital, a 5-year guarantee period is granted.
Conclusion:
The scheme is part of Prime Minister Shri Narendra Modi's Startup India Action Plan, which was introduced on January 16, 2016. The Plan emphasised the need for a Credit Scheme to catalyse and foster entrepreneurship, as well as to enable the provision of venture debt to startups by banks and Member Institutions.
This Scheme, announced by DPIIT in October 2022, is a step in the right direction, and it is intended to revolutionise the collateral-free funding method for Indian startups.