Discover the Startup Behind PM Modi's Headline-Making Jacket
Do you know what Sadri Jacket PM Modi is wearing? Who is the company that created Modi's recycled jacket? In this enticing story, learn more about Modi's trendy jacket.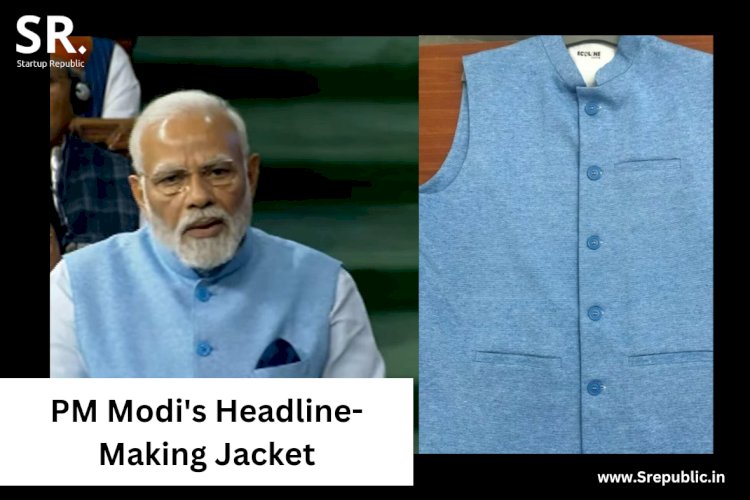 PM Modi's Jacket
PM Modi's attire has once again captured global attention and sparked headlines, as he attended the recent G7 summit wearing a striking jacket made entirely of recycled plastic bottles.
Modi's Eco-Friendly Methodology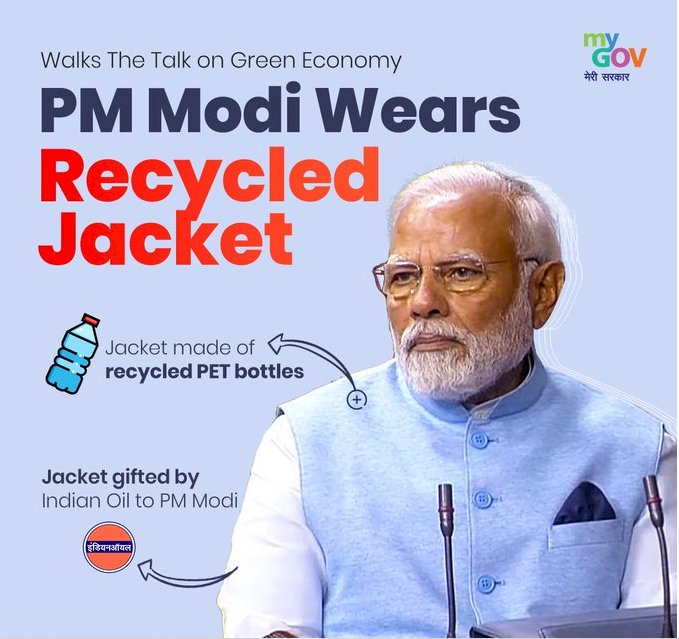 Prime Minister Narendra Modi firmly defended environmental sustainability during the G7 summit in Japan. He made a statement by donning a jacket that was painstakingly made from recycled materials in order to convey a message about environmental responsibility.
The prime minister's dedication to promoting sustainable practices was powerfully symbolized by the jacket, which was thoughtfully created to embody the recycling and reuse principles. Its production required a remarkable process that turned waste materials into stylish garments, lowering its environmental impact.
Sustainable Fashion: PM Modi's Choice
This is not the first time the prime minister has worn a jacket made from recycled materials, after all. Notably, he attracted a lot of attention in February while participating in a parliamentary session while wearing a sky-blue "sadri" jacket that had been painstakingly made out of used plastic bottles. This noteworthy outfit choice highlighted the Prime Minister's ongoing commitment to advancing eco-friendly behaviors and sustainable fashion. He once more showed his dedication to spreading awareness about the significance of responsible waste management and the potential for repurposing discarded materials into cutting-edge clothing by choosing a jacket made out of recycled plastic bottles.
Sadri Jacket: What Is It?
A traditional Indian jacket known as a "Sadri" has grown in popularity as a chic and functional outerwear option. It is typically a jacket with short or no sleeves worn over a shirt or kurta. The mandarin collar of the Sadri jacket, which takes design cues from military garb, is frequently accompanied by ornamental buttons or fastenings.
Vocal For Local Spirit
He has consistently emphasized the value of supporting indigenous industries and promoting goods made in India through his "Vocal for Local" initiative. By donning recycled-material jackets, he not only emphasizes the value of sustainability but also demonstrates the capacity of regional manufacturers and artisans to produce avant-garde, eco-friendly clothing.
Wearing recycled jackets on purpose is a strong endorsement of India's domestic talent and manufacturing prowess. By favoring eco-friendly clothing, the prime minister supports the notion that going green and supporting regional businesses go hand in hand. He sets an exemplary example for people and world leaders, motivating them to value locally produced goods and understand the enormous value of sustainable fashion.
The Startup Behind PM Modi's Jacket is Ecoline Clothing.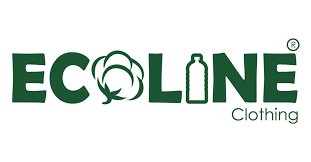 The jacket was a gift from Indian Oil to Prime Minister Modi, but it was originally made by Ecoline Clothing, a new line of sustainable clothing from Shree Renga Polymers. With end-to-end manufacturing capabilities, this startup is setting the standard for PET bottle recycling and upcycling into value-added products like clothing.
Senthil Sankar, Managing Partner of Ecoline Clothing, explained their recycled clothing strategy by saying, "Ecoline Clothing is deeply focused on producing sustainable clothing solutions and offers comfortable fashion wear for men and women."
The brand uses a variety of polyester fabrics to create a tailored fit and a comfortable, airy texture. According to Sankar, all products are certified by the Ocean Bound Plastic (OBP) Certification, Global Recycle Standard, OEKO-TEX®, and ISO, ensuring superior product quality and traceability.
Prime Minister Narendra Modi's initiatives to promote sustainable fashion and express his support for local products have a significant impact because he is a powerful figure on the international stage. People all over the world are inspired by his dedication to sustainability and the use of recycled jackets as a symbol of his vision for a greener future. This inspires them to reevaluate their own consumption habits and make deliberate decisions that support a more sustainable planet.