The journey to success of Infra.Market, a B2B building ecommerce platform
Infra.Market, situated in Mumbai, is a tech-enabled B2B e-commerce marketplace for building goods. In 2021, the startup, which was founded in 2016, achieved the desirable unicorn status.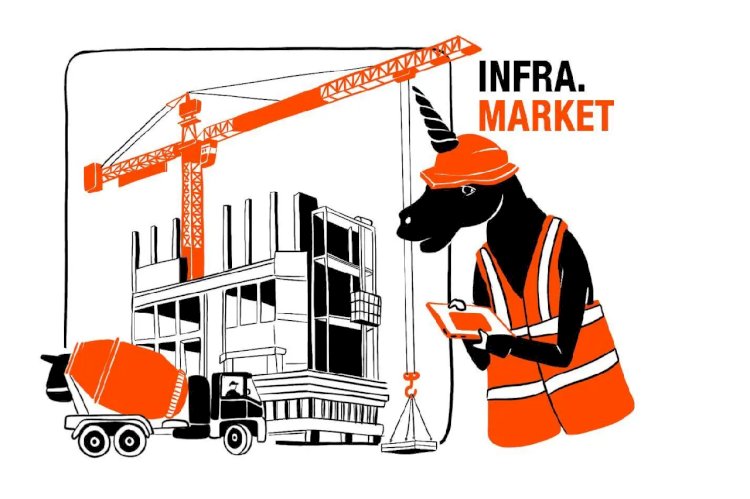 Aaditya Sharda, an IIM Ahmedabad alumni, realized the construction sector in India is still very unorganized after working in the field for ten years.
Infra.Market was founded by Aaditya and his friend Souvik Sengupta, a CA and IIM Bangalore graduate, in 2016 to disrupt this market.
Infra.Market is an end-to-end construction solutions startup that takes the entire procurement process online, ensuring quality, organizing the vendor base, and bringing transparency to pricing, according to Souvik.
In 2021, the startup became a unicorn, with a valuation of more than $2.5 billion. Tiger Global Management, Nexus Venture Partners, Accel Partners, Fundamental, Sistema Asia Fund, Evolvence India Fund, and Trifecta Capital Advisors are among the investors.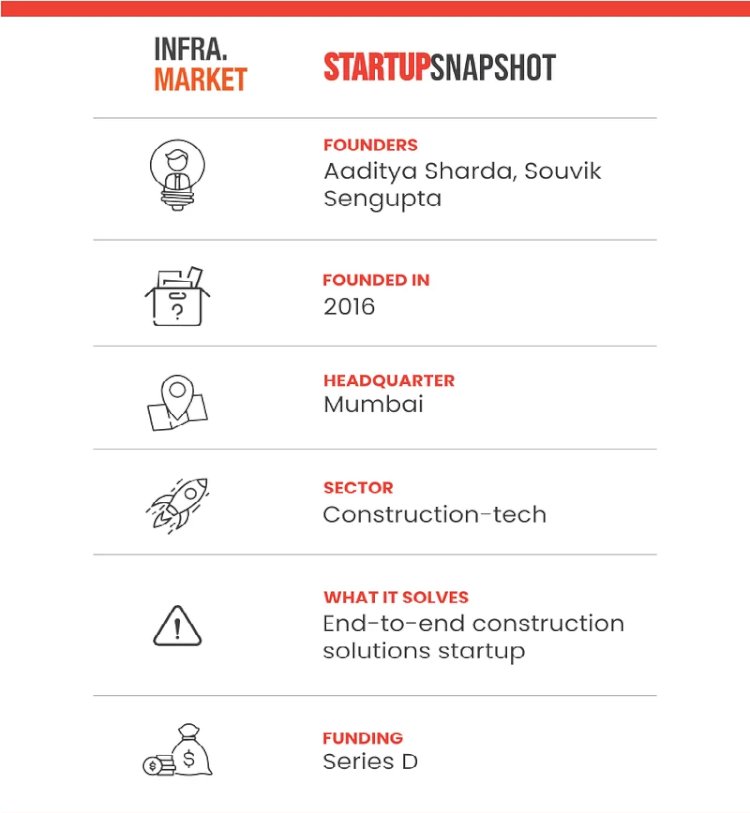 The founders' journey
Souvik has previously worked with infrastructure players as a financial specialist, and Aaditya knows the construction sector by rote and has over 10 years of industry entrepreneurship experience.
Souvik discovered while working that, while steel and cement were widely available across India, they only accounted for 15% of the raw materials needed for a construction project.
He discovered the imbalance in the Indian construction supply chain, which was excessively fragmented and disorganized when he sought to obtain the remaining 85 percent of supplies.
According to Souvik, the firm uses technology to improve the procurement experience for all parties in the construction industry.
According to Aaditya, the B2B e-commerce site for building products launched its own private label last year, which has been a priority for future growth. He goes on to say that the company's private label, which has spread across most of the product categories in the sector, such as Infra.Market Electricals, Infra.Market Tiles, Infra.Market Sanityware, and so on, accounts for more than two-thirds of sales.
He argues that the business has become the go-to partner for all building material needs over the last few years, particularly during the pandemic when traditional supply systems were interrupted.
Unicorn transformations
With its Series C round fundraising led by Tiger Global and previous investors like Fundamental, Accel Partners, Nexus Venture Partners, Evolvence India Fund, and Sistema Asia Fund, the Mumbai-based business achieved unicorn status early this year, with a valuation of $1 billion.
All of this happened just 20 months after the company received a seed round from Accel Partners in June 2019, and its most recent fundraising of $125 million from current investors raised its valuation to $2.5 billion.
According to Souvik, this is not a rapid increase or a significant shift in the sector. He adds that because of Infra.Market was the only competitor in the market and had been bootstrapping for three years, it was unable to scale as quickly as it did after receiving its initial capital infusion.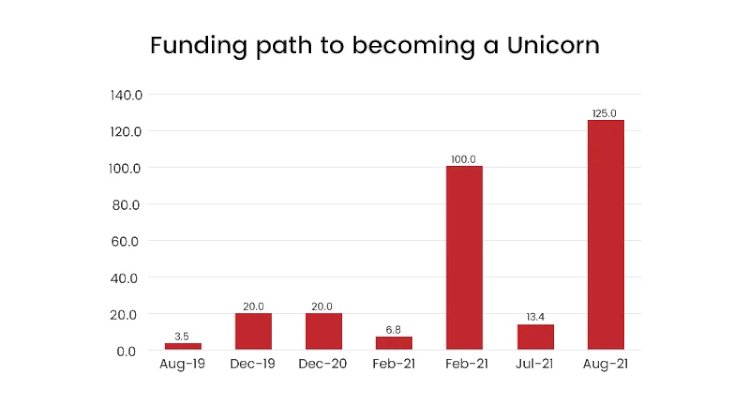 The story of development
According to the founders, the company's growth is also measured in terms of profitability, which has been a priority for the company since its inception, and it has been profitable since its first year of operations.
Hella Infra Market, which runs and owns Infra.Market, reported a profit of Rs 8.1 lakh in FY17-18, followed by Rs 1.7 crore in FY19, and Rs 8.5 crore in FY20, according to the startup's financials submitted with the Ministry of Corporate Affairs (MCA).
The hybrid model is used by the construction-tech unicorn. It includes offline outlets across India as well as an e-commerce platform for all construction-related materials.
Infra.Market has steadily increased supplies to retail locations over the last 12 months. The company has a dual business strategy, with franchise stores catering to small businesses and dealership stores catering to retail clients. According to Aaditya, there are 300 stores currently open, with 200 more set to open in the coming months.
These outlets are located in ten states across India, with the majority of the company's operations taking place in the West and South. The company said it plans to expand its footprint throughout Eastern and Northern states including West Bengal, Odisha, and Uttar Pradesh after collecting $125 million in Series D funding from Tiger Global in August.
In addition, Infra.Market has begun selling to nations such as Dubai, Singapore, Jordan, and Italy. "Within a year of beginning exports, 10% of sales were coming from outside India. "We're in the process of forming a Singapore subsidiary, which will serve as the company's first overseas office as it expands globally," adds Souvik.
It presently has over 3,000 customers, including well-known companies like Tata Projects, Ashoka Buildcon Ltd, KEC International Ltd, Larsen & Toubro, Embassy Group, Ultratech, and ACC Ltd.
It has also worked on high-profile infrastructure projects like the Nagpur-Mumbai expressway, Navi Mumbai airport, Adani LNG terminal, and Metro rail projects in Mumbai, Delhi, Ahmedabad, and Kochi, as well as real estate projects like Embassy tech village, IIT Tirupati campus, Amazon data centre, Apple assembling unit, and DRDO data centre.
Recruiting, acquiring, and scaling
Infra.Market, according to Aaditya, is now concentrating on improving its technological solutions, focusing on private label products, expanding its retail presence, and exporting to overseas markets. He goes on to say that the company is looking to expand through acquisitions.
"As we want to add more product verticals like plumbing, paints, and sanitaryware in the next months, we are looking to buy mid-sized businesses in the construction market across categories," he says.
Aaditya also mentions that the company is putting together its leadership team for the next phase of growth and expansion and that it is looking to hire more professionals from the ground up across business verticals such as supply chain, sales, marketing, and product categories. The firm already employs 700 employees and plans to increase that number to 1,000 by the end of the year.
Competition and the market
The construction industry is an important aspect of a country's economic development and health, contributing around 9% of GDP, according to the founders of Infra.Market.
"The market is big enough to take us all," Aaditya continues. BuildNext, Infra Bazaar, Materialtree, Brick2Wall, Moglix, and Power2SME are just a few of the companies operating in this market.