From Idea to Recognition: A Descriptive Guide on Registering Your Startup with Startup India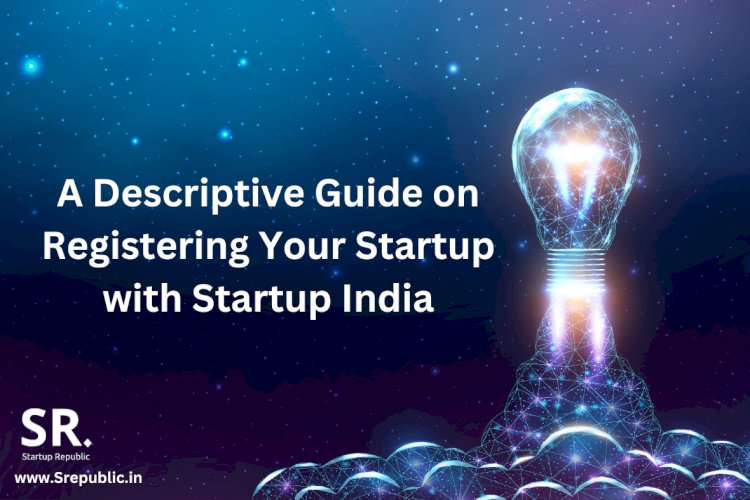 Guide on Registering with Startup India
Introduction: In recent years, the Indian government has taken numerous initiatives to foster the growth of startups and entrepreneurship in the country. One such significant initiative is the Startup India program, which aims to provide a supportive ecosystem and various benefits to budding entrepreneurs. If you're considering starting your own business in India and want to avail the benefits offered by the Startup India program, this step-by-step guide will walk you through the process of Startup India registration.
Step 1: Eligibility Check: Before diving into the registration process, it's crucial to ensure that your startup meets the eligibility criteria set by the government. To be eligible for Startup India registration, your business should be:
Incorporated as a Private Limited Company, Partnership Firm, or Limited Liability Partnership (LLP).
Less than ten years old from the date of incorporation.
The annual turnover should not exceed INR 100 crore in any preceding financial year.
Your startup should be working towards innovation, development, deployment, or commercialization of new products, processes, or services driven by technology or intellectual property.
Step 2: Online Registration: To initiate the registration process, visit the official Startup India website (www.startupindia.gov.in). Create an account or log in if you already have one. Then, follow these steps:
Fill in the Application Form: Provide the necessary details about your startup, such as name, registration number, date of incorporation, business address, and brief information about the product or service.

Upload Required Documents: Prepare scanned copies of the following documents and upload them on the website:

Certificate of Incorporation/Registration
A brief note on the nature of your business
Recommendation/Support letter (optional)
Description of your innovative product or service

Self-Certification: Read and self-certify that your startup meets the eligibility criteria specified by the government.

Submit the Application: Once you have filled in all the necessary information and uploaded the required documents, submit the application form. You will receive an acknowledgment of receipt.
Step 3: Recognition and Support: After submitting your application, the Startup India team will review the provided information and documents. If everything is in order, your startup will be granted recognition as a "Startup" within a reasonable time frame.
Once recognized, your startup can avail various benefits and support offered by the Startup India program, including:
Tax Exemptions: Enjoy income tax exemption for three consecutive years out of the first ten years since incorporation.
Self-Certification: Benefit from self-certification compliance for labor and environmental laws.
Simplified Patent Examination: Expedited examination of patent applications through the fast-track mechanism.
Funding Support: Access to government schemes and funds, such as the Fund of Funds for Startups (FFS) and the Credit Guarantee Fund Scheme for Startups (CGSS).
Networking Opportunities: Connect with other startups, investors, and mentors through various networking events and platforms.
Conclusion: Registering your startup under the Startup India program can provide a host of benefits and support, propelling your entrepreneurial journey to new heights. By following this step-by-step guide, you can streamline the registration process and take advantage of the government's initiatives to foster innovation and entrepreneurship in India. So, seize this opportunity, turn your ideas into reality, and contribute to the nation's economic growth through your startup. Good luck on your exciting startup journey!